Homeowner's FALL Checklist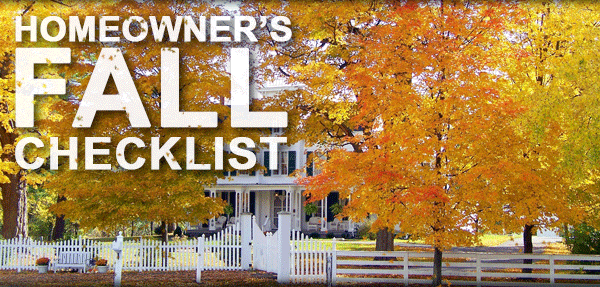 As experts in home inspections, we advise every homeowner
to prepare for the upcoming season.

Home owners who follow this checklist in the Fall have fewer problems once Winter arrives.
Check windows and screens
Drain exterior water lines
Check roof including shingles, flashing and vents
Check weatherstripping
Check sealing around windows and doors
Check septic system
Winterize landscaping and remove leaves
Clean furnace filter and HRV
Clean water heater
Shut of exterior water supply
Check eavesthroughs and downspouts
Clean humidifier
Check and reset GFCI
Test smoke alarms and carbon monoxide detectors
Keeping up with regular maintenance and seasonal chores will prevent any surprises when it comes to getting a home inspection when you're ready to sell your home. Just a little friendly advice from your friends at Legacy Inspection Group.
Contact us for a quote and to discuss your Home Inspection needs today at 847-217-5958. We service the Chicago area for home inspections, mold testing and radon testing.